CanopyLearn is the #1 Medical Spanish e-Learning Resource for Doctors of Osteopathic Medicine and DO Students.
Breaking down the language barrier in healthcare aligns with the core principles of DO programs, such as patient-centered care, cultural competence, and effective, empathetic communication. Addressing language barriers can enhance patient-provider interactions, improve health outcomes, and contribute to more equitable and inclusive healthcare practices.
With CanopyLearn, you get coursework developed with support from the NIH and an interactive pedagogical approach that places students in real patient-clinician scenarios so they're ready to use what they learned right away.

Research and development for various Canopy products has been supported in part by the awards from the National Institutes of Health listed here.

---

Through the establishment of this partnership, AOA and Canopy intend to work together to raise awareness in the healthcare community about the communication barrier, to equip frontline clinicians and administrative professionals alike with highly effective tools, and to ultimately elevate the quality of care for the underserved communities.
And AOA Members Get 20% Off Today!
Just Select Your Course and Use Promo Code AOA2023 on the Check Out Page!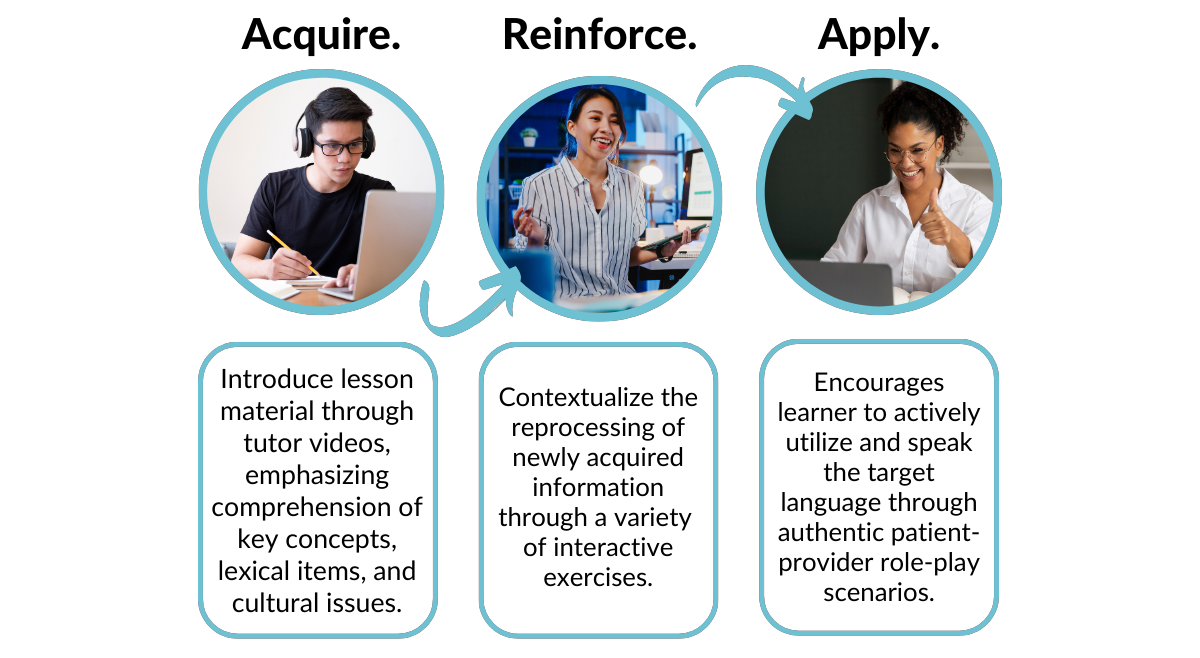 Methodologically sound: An NIH-funded, self-paced e-learning course used in over 1/3 of medical schools where you will experience multiple learning modalities that make acquiring foreign-language competency more engaging, effective and rewarding.
A Medical Spanish course that works for you: You're busy. CanopyLearn is not only self-paced, providing you with ultimate schedule flexibility, it also delivers a highly engaging, experiential learning program focused on practicing speaking with real clinician-patient scenarios so that they're ready to help limited English proficiency patients right away.
Get Credentialed and Earn CE Units: Boost your resume and candidacy by earning CE units and by getting bilingual credentialed after finishing the course program. Simply select the Canopy Learn + Credential option upon checkout! Curious about what CE credits Canopy Medical Spanish offers? Click here to find out.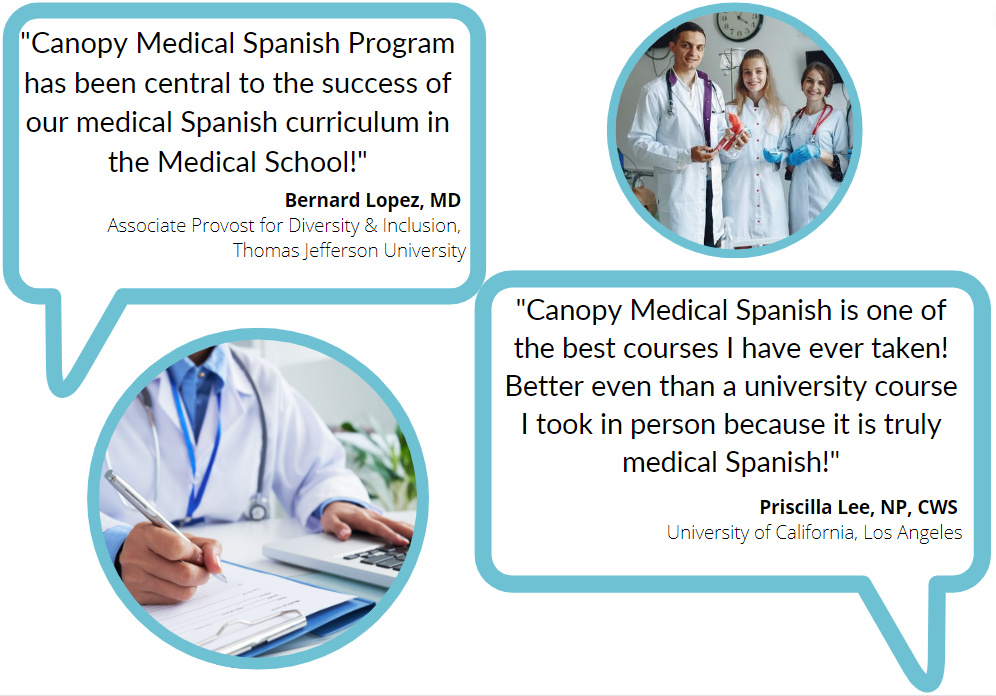 Choose the Level Best Suited for You
Level I
Level II
Level III

Greetings & Introduction

Work at the Clinics

Pain Descriptions

Gastrointestinal (GI) terms

Basic Physical Exam Terms

Diet & Diabetes Terms

Major Trauma, Body parts, Minor Injury, Vaccinations & Allergies

Cardiology

Cancer & Internal Organs

Depression & Anxiety Terms

Headache & Migraine Terms





Contraception & Sexually Transmitted Infection (STI)

Cardiology & Myocardial Infarction (MI)

Pneumology & Allergy Terms

Pharmacy, Medicines, Dosage

Urology Terms

Obstetric Terms (OB-GYN)

Pre- & Post-op Surgery Terms

Elder Care Terms

Alcohol Addiction & Drug Abuse

Stroke Terms

Tuberculosis Terms

Metabolic Syndrome Terms

Trauma & Critical Care

Discharge Planning & Social Work

Breast, Cervical & Uterine Cancer

Well Baby Visit & Child Safety

Palliative Care Terms

HIV / AIDS Terms

Depressions & Suicide

Seizures Terms